STAMPED CONCRETE HOUSTON
March 16, 2018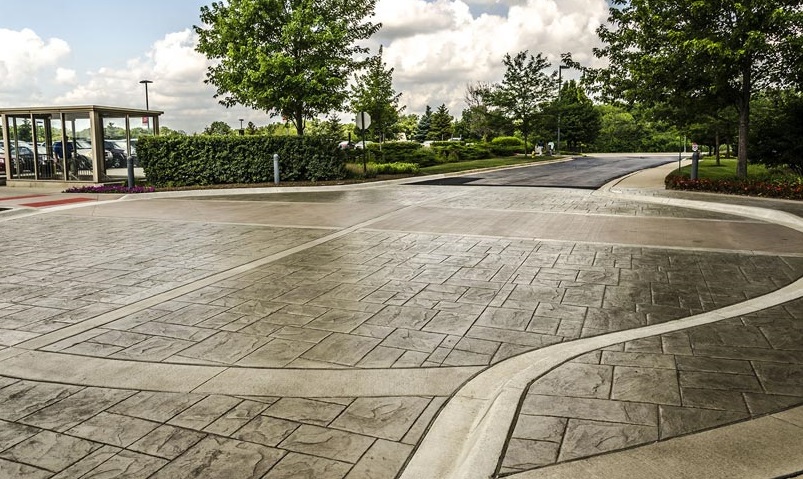 The value of REFINE's Houston Stamped Concrete presents itself over and over again in all types of projects. From driveways and walkways to residential and commercial patios, our clients choose REFINE's Stamped Concrete for its value improvements; reduced costs, an appealing final product, and easy maintenance. Along with the known durability and long-lasting features of regular concrete, REFINE's stamping adds a decorative touch making it a desirable and economical product for all.
Here are the main ways Stamped Concrete offers real benefits in terms of performance, cost savings, and aesthetics:
Reduced long-term maintenance and care.
Over time, other surface materials such as pavers can become loose or settle, resulting in tripping hazards. Stamped concrete's advantage is that it never needs resetting or replacing. It eliminates tripping hazards for parks, resorts, etc.
Less labor intensive than other surface materials.
Some installers find it more economical to pour concrete and apply a pattern than to haul and place individual paving stones by hand.
Increased longevity.
Your initial investment is only part of the total equation. Concrete lasts longer than other materials, is durable in nearly every type of environment, and holds up better to traffic and wear.
Requires less maintenance.
Stamped concrete requires minimal maintenance than most other paving materials which can add up to big savings over the surface's lifetime.
Increases resale value of property.
Stamped concrete adds instant curb appeal and aesthetic value to a property. You can maximize the return on your investment by choosing stamped concrete over plain concrete.
Compare stamped concrete to other paving materials and see first-hand how concrete stacks up to asphalt, natural stone, and precast pavers. You'll be impressed with how much stamped concrete has to offer in terms of availability of patterns and colors, longevity and performance, speed of installation, customization, and more.
Patterned stamped concrete is designed to resemble brick, slate, flagstone, cobblestone and other patterns. Natural stones are costly and require more upkeep than patterned or stamped concrete, therefore making stamped concrete much more economical and still capable of achieving the desired look. Because concrete is the most often installed surface for driveways, courtyards, and patios, stamped concrete is a popular application for creating a feasible and unique design.
Colors schemes for stamped concrete are often selected to blend with other architectural elements of a residence or commercial space, or the natural surroundings. Subtle earth-tone shades are popular for outdoor pavements, but concrete can also be the canvas for bolder, more vivid color schemes.
Call, text or email Crystal to arrange a free, and as in-depth as you prefer, consultation at your place of business or private residence. Crystal will bring to you a wide array of colors and patterns to choose from for your project.
281-882-3098 | crystal@refineconcrete.com