Stained Concrete Floors Houston | Benefits & FAQ
August 5, 2017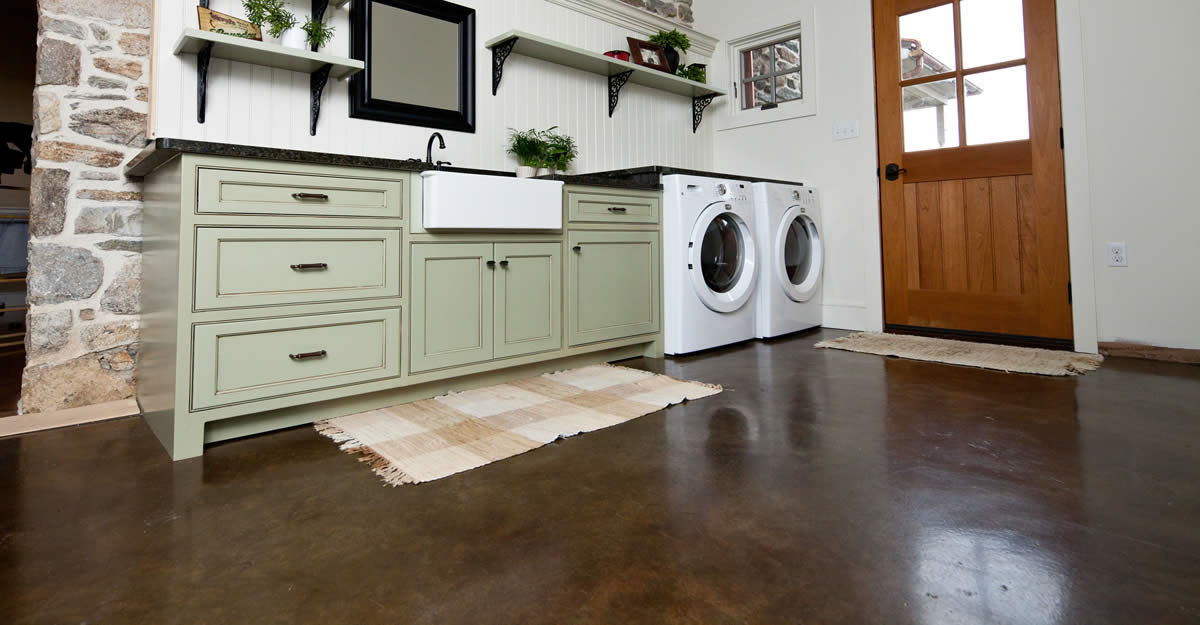 Benefits of REFINE Stained Concrete Floors
At REFINE Concrete Services, we offer stained concrete application services in Houston, Texas for commercial, industrial and residential clients. We can apply durable concrete stain coatings to nearly any new or old concrete surface. Our stained concrete flooring application services include the use of a variety of stains and colors in order to create the functional, elegant or stylish look you desire. Look no further for stained concrete in Houston.
Stained concrete floors are becoming increasingly popular in Houston's commercial, industrial, and residential projects because of the variety of benefits and advantages that these floors offer. From initial cost savings to lasting durability and low maintenance, stained concrete floors are an ideal choice in nearly any building or renovation project. Additionally, stained concrete floors can incorporate a number of decorative applications and elements in order to increase the look and aesthetic appeal of this flooring.
Some of the main benefits of utilizing stained concrete flooring in commercial, industrial and residential settings include:
Durability: One of the best qualities of stained concrete flooring is its durability and resistance to wear and tear. Stained concrete floors offer all of the durability of concrete flooring including high compressive strengths. They will also not warp, buckle, or flake like some other flooring options. Additionally, stained concrete floors are ultraviolet light resistant to resist fading or discoloration. Finally, unlike some concrete paints, concrete stain will not chip or peel.
Beauty: Properly designed and installed by REFINE's Craftsmen, stained concrete flooring is capable of capturing the look of far more expensive flooring options including granite, marble, travertine, sandstone, flagstone, and slate. This can give your flooring an elegant and stylish look at an affordable cost. Even single-color concrete floors can provide a unique look, allowing them to stand out beyond other commercial, industrial or residential application.
Energy Savings: Concrete floors have an ability to absorb, store, and slowly release heat and coolness. Because of this "thermal mass" property, exposed concrete floors, such as stained concrete floors, can reduce the load on heating and air conditioning equipment by moderating indoor temperature swings while outdoor temperatures may vary drastically.
Low Maintenance: Stained concrete floors require very little maintenance compared to other flooring options. These floors can simply be swept and mopped clean as needed while maintaining their overall look and elegance. Occasionally, stained concrete floors in high traffic areas may need to be buffed or re-polished to maintain their shine.
Optimal Indoor Air Quality: The four main sources of indoor air quality are (1) allergens, such as dust mites, mold, mildew; (2) retained moisture and dampness; (3) odors from smoke and cleaning agents; and (4) volatile organic compounds (VOC's) emitted from some building materials. Stained concrete floors eliminate all of these indoor air quality problems because they do not allow for the growth of mold and mildew, will not collect dust mites, easily allow moisture to evaporate, can be cleaned easily without harsh chemicals, and can be installed with a sealer that contains low or no VOC's.
Water Resistance: Stained concrete floors allow low amounts of moisture to pass through without leaving behind any negative results or effects. Stained concrete floors will not warp or rot, grow mold or mildew, or discolor like many other flooring surfaces when exposed to moisture from above or below.
Sustainability: There is an important and recent trend towards using environmentally friendly and sustainable building materials and methods when building and remodeling commercial, industrial and residential buildings. Because concrete is an energy efficient product, is made from local products, and uses recycled or waste products when manufactured, stained concrete floors are a sustainable building material. Other environmental benefits of stained concrete floors are that they promote optimal indoor air quality, reduce operating costs, have little construction waste, and will never need to be replaced.
STAINED CONCRETE FAQS
Wondering if stained concrete is right for you? To help you decide, here are answers to common questions REFINE receives from clients about stained concrete benefits, appearance, performance and maintenance.
Why do people choose stained concrete?
Stained concrete appeals to many people who want to achieve unique decorative effects for a reasonable cost. For as little as $2 per square foot, you can use stains to create an infinite array of colors and special effects on both interior and exterior surfaces. Concrete stain does more than simply add color. Rather than produce a solid, opaque effect like paint or colored coatings, stains permeate the concrete to infuse it with rich, deep, translucent tones. Some stain manufacturers use adjectives such as "antiqued," "variegated," or "mottled" to describe the distinctive look. Even when treated with the same staining product in the same shade, no two concrete floors, walls, or countertops will look alike due to factors such as the composition and age of the concrete and surface porosity.
Can I stain concrete myself?
When applying stain, using the proper tools and application techniques is vital to achieving good results. REFINE has made significant investments in equipment, training and employing expert Craftsmen. Once the stain is down, the color is permanent—there's no going back. If you have any doubts, hire the services of REFINE, especially if you want to incorporate multiple colors and elaborate decorative effects.
Another factor to consider is safety. When working with acid-based chemical stains, it's important to take the proper precautionary measures because they often contain corrosive components that can cause eye and skin irritation and produce strong odors.
Can all concrete be stained?
Both acid and water-based stains can be applied to new or old and plain or integrally colored concrete. They can also be used both indoors and out, on everything from concrete floors and kitchen countertops to pool decks and driveways.
The most important consideration is the condition of the surface. If the concrete is covered by grime, glues, coatings, curing membranes, or sealers that inhibit the stain from soaking in, the stain won't be able to penetrate and achieve full color development. REFINE will assess, as part of the consultation process, whether your concrete surface is suitable for concrete staining.
What are my color options with stained concrete?
The color options REFINE can provide will vary depending on whether you are using an acid or water-based stain. With acid stains, your color choices will be limited. Most manufacturers offer only 8-10 hues, mostly subtle earth tones, such as tans, browns, terra cottas, and soft blue-greens. Although the basic color palette is sparse, REFINE can mix two or more stain colors before application to achieve a different shade or apply one color over another. REFINE can also produce deeper color effects with a stain by applying two coats.
If you want to go beyond the subtle drama and subdued color palette of acid staining, REFINE's water-based acrylic stains will give you a wider spectrum of hues to choose from. Most manufacturers offer dozens of standard colors, including black and white and even metallic tints. And in many cases, the different colors can be mixed, like water-based paints, to broaden your options.
How do I choose the right stain color?
Color choice is often dictated by personal preference or by a desire to match or complement an existing color scheme, such as staining a concrete floor to mirror the same tones in a wood-paneled wall. Because stain color is permanent, many building owners opt for neutral tones, such as light tans, browns, grays and greens. Regardless of what stain colors you choose, be aware of the following caveats:
With acid-based stains, wide color variations are normal. Surfaces will have a mottled, variegated appearance, and these variations will be emphasized when the final coat of sealer is applied.
With some acid stain colors, what you see in liquid form may not be what you get once the stain has reacted with the concrete surface. The stain may not reveal its true color until it has been allowed to remain on the concrete for several hours or longer. REFINE will apply the stain to a small test area before covering the entire surface.
Color effects will generally be more intense on new concrete than on older or weathered concrete.
REFINE will provide color charts or even actual samples of stained concrete to help you visualize the options.
What special effects are possible with stained concrete?
Depending on the color and application techniques used by REFINE's Craftsmen, stained concrete can be made to mimic everything from polished marble to tanned leather to natural stone or even stained wood.
Some of your options include:
Applying multiple colors of stain, either by layering or blending stain
Using stains in combination with dyes
Using thicker gelled stains with stencils to create artistic patterns and other decorative effects
What are the differences between acid stains and water-based stains?
Acid-based concrete stains are made up of inorganic metallic salts dissolved in an acid and water solution. They penetrate into the surface and react chemically with the concrete to form a permanent bond. The color they impart is translucent rather than opaque, resulting in deep, rich tones and attractive marbling effects.
Non-reactive water-based stains (typically a blend of acrylic polymers and pigments) fill the pores of the concrete surface to produce a colored film or coating, ranging from translucent to opaque depending on the product. The key difference is that no chemical reaction takes place, so the color is more consistent. Most of these products are also low in VOCs (volatile organic compounds) and safer to apply because they are free of solvents and acids.
How much does stained concrete cost?
The cost of staining will vary considerably depending on the complexity of the stain application, surface prep requirements, and the size of the project. A basic one-coat application of stain on concrete requiring minimal surface prep will run about $2 to $4 per square foot, while more elaborate staining projects involving multiple colors and special design details can cost $15 per square foot or more due to the time and skill level involved.
Will the color fade?
Because stains penetrate into the concrete surface, their color is durable and long-lasting. When applied to properly prepared concrete, the color will not fade, chip, or peel away.
How do I maintain stained concrete?
Although concrete stain is permanent and won't flake off like paint, it penetrates only the top layer of the concrete surface and will eventually wear away as the surface is worn by traffic or weather exposure. To prolong stain life, you should protect exterior stained concrete surfaces with a clear sealer and interior floors with a good floor wax. To keep your stained concrete looking its best, you will also need to clean it periodically by dry dust mopping and occasional wet mopping with a neutral-pH cleaner. REFINE will provide you with simple maintenance instructions specifically designed for your new floor.
Do you have more questions, or do you just want to talk about stained concrete for your business or home? Call, text, or email, we love talking with people about stained concrete.
Phone: 281-882-3098
Email: info@refineconcrete.com
And, be sure to check out our Blog Post on Stained Concrete.