Concrete Driveway Houston | REFINE Your Driveway
August 23, 2018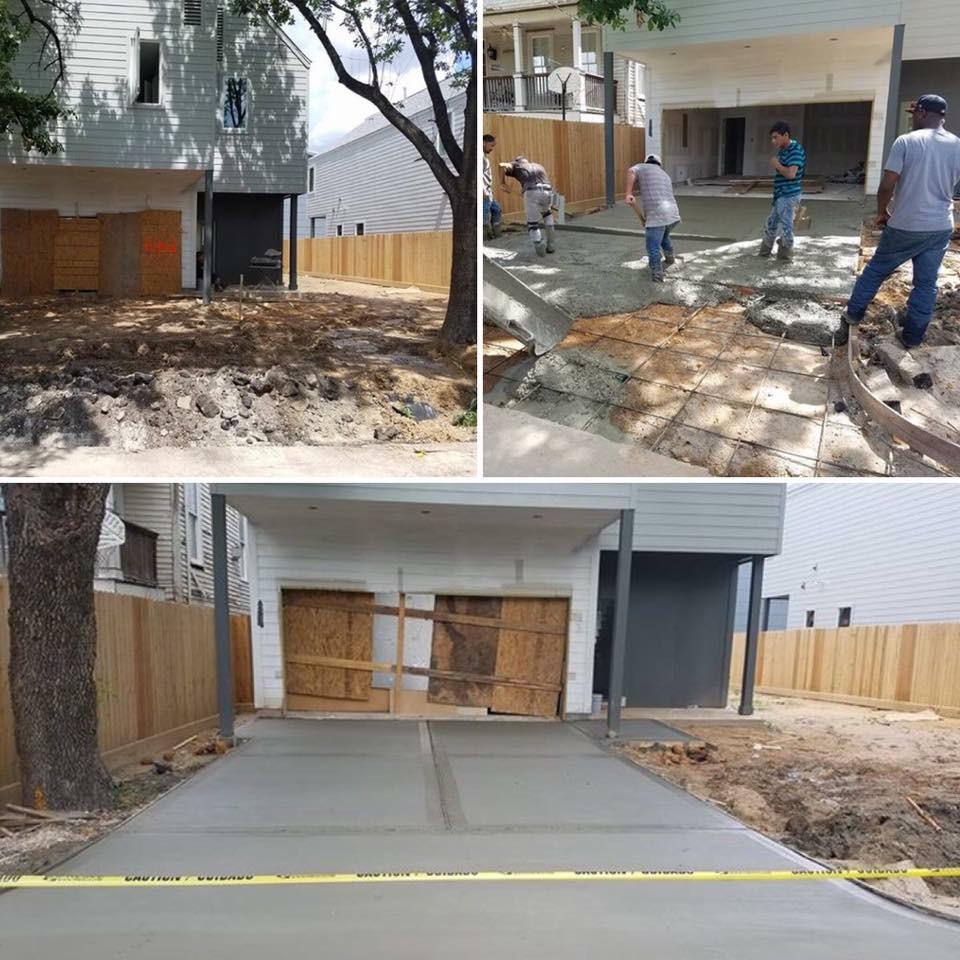 Despite our rapid growth and expanding footprint in commercial and industrial concrete placement, REFINE still places concrete for the residential market. Our Concrete Finishers, many of them with 20-30 years of experience, started their concrete careers in the residential market and enjoy meeting and exceeding the expectations of our homeowner clients.
Concrete driveways make a prominent statement in the front of your home. Your driveway is often the first thing you see as you approach a house, the driveway makes a big first impression, good or bad. If your driveway has large cracks, broken concrete, rotten joints and heaving sections it may be time for a new REFINE Concrete Driveway.
Of course, to ensure that your REFINE concrete driveway will look good for many years to come, there are important steps REFINE Concrete Services follows during placement. REFINE knows that how well your driveway looks and performs long-term is largely related to the quality of workmanship and materials that we put into it. To ensure a high quality concrete driveway that will last for decades we follow a set of industry standards and procedures that ensure longevity of your concrete driveway and our concrete business.
If you're concerned about the environment, concrete is one of the "greenest" materials you can use to build a driveway. Few driveway paving materials can match concrete when it comes to sustainability and conserving the environment. Below are some of the top reasons why.
Concrete is made with renewable resources.
Unlike asphalt pavements that are made with nonrenewable petroleum supplies, concrete pavements are made from abundant, sustainable resources including water, natural rock, sand, and cement. The predominant raw material for the cement in concrete is limestone, the most abundant mineral on earth.
Concrete saves energy by reflecting light.
Concrete is naturally brighter and more reflective than asphalt, saving energy by reducing the need for lighting at night. Up to 27% of light falling on a concrete surface will be reflected, compared with as little as 5% of light from asphalt pavements. In addition, light-colored paving materials help reduce the heat-island effect in urban areas.
Concrete lasts longer.
A REFINE Concrete Services installed concrete driveway will last for many decades—and at least two or three times longer than an asphalt driveway. Because REFINE's concrete driveways don't need to be replaced or resurfaced as often, fewer raw materials are consumed over the life of the pavement.
Concrete can be recycled at the end of its service life.
If your concrete driveway ever needs to be replaced, it can be crushed and recycled at the end of its service life. REFINE's concrete demo team will remove and haul away your old and damaged concrete prior to the installation of your new concrete driveway. The material from your recycled driveway can then be used as granular fill, as a base course for a new pavement, or as aggregate in new concrete.
Installing concrete is a challenging job and every concrete placement is different. Size, shape, color, finish and depth of a residential project all have to be considered when pouring concrete. When you invite REFINE to your home you can expect to engage in as detailed a discussion of your concrete project as you desire. Concrete is what we do, so we love talking about it with clients, either at the construction site or at your home.
Call, text or email Crystal for your free consultation and quote:
281-832-3098 | crystal@refineconcrete.com